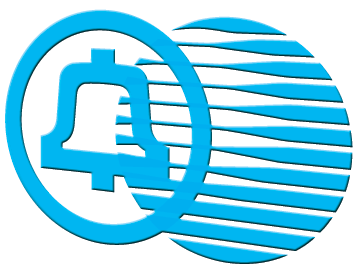 A website created as a memorial to the people,
history, technology and the "Spirit of Service"
of what was known as the "Bell System" prior to 1984.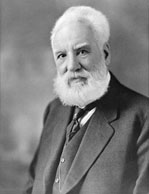 Alexander Graham Bell (March 3, 1847 - August 2, 1922)
Click HERE to read the 100th Anniversary
booklet published by AT&T in 1947, dedicated to Mr. Bell
and his remarkable legacy.
An inspiring article on Alexander Graham Bell that is sure to bring a tear to your eye. This
man had great vision, and unlike today's tech giants, he was very humble, and was not out
for personal glory or earthly riches. Sadly, Mr. Bell is no longer taught in school, or paid the
respect he deserves.
Alexander Graham Bell, Digital Nomad
"Founder, former president and senior trustee of the National Geographic Society,"
https://www.nationalgeographic.com/travel/article/tweeting-place
Telephones Were Silenced for One Minute After Alexander Graham Bell Died on August 2, 1922
By the time Bell died, he had moved on to other inventions. But the telephone made a huge mark on American society
https://www.smithsonianmag.com/smart-news/telephones-were-silenced-one-minute-after-alexander-graham-bell-died-180964296/
"When we think of the telephone and its inventor we likely think of Alexander Graham Bell. On March 10, 1876, at the age of 29, Bell spoke to his fellow worker Watson positioned in another room, uttering the famous words over the new device that would change the world: "Mr. Watson—Come here—I want to see you."
http://www.tomorrowsworld.org/magazines/2016/november-december/the-man-who-worked-with-all-his-might
Mr. Bell
In 1947, the Bell System honored the 100th anniversary of Alexander Graham Bell's birth with a long (for a Bell System film) biopic. The half-hour film starred Raymond Edward Johnson as Bell and Mason Adams as Thomas A. Watson. The film reenacts Bell's daily life during the period in which he invented the telephone — the mid-1870s.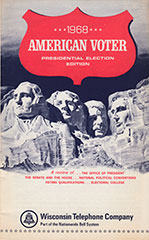 **1968**
American Voter
An interesting booklet reproduced by Wisconsin Telephone Company for the 1968 U.S. Federal election. This booklet details The Office of The President, The Senate and House, Electoral College, and that it is important for every legal, and qualified citizen to vote, and not ignore their solemn duty. Americans have fought and died so that legal citizens of our great nation can vote.

In no time in our history is it more imperative than now, that we as legal U.S. citizens vote for the candidates that will stand for Life, Liberty, Freedom, and the Rule of Law, and not lawlessness. In one election we could loose it all.
THE LEAST WE CAN DO IS VOTE!

Interesting Facts and Historical Background on the Bell System

We Offer Personalized One-On-One Service!
Call Us Today at (651) 787-DIAL (3425)

Keywords: Vintage Phone Repair, Antique Telephone Repair, Telephone and Rotary Dial Repair, Vintage Telephone Repair, Old Phone Repair, Old Telephone Repair, Old Phones, Old Telephones, Service & Repair, Western Electric Phone, Western Electric Telephone, Telephone Repair, Telephone Restoration, Telephone Parts, Phone Parts, Phone Equipment, Phone Supplies, Telephone Supplies, Western Electric Phone Repair, Western Electric Telephone Repair, Bell System Phone Repair, Recycle of Old, Vintage Historic & Phones, Classic Princess Rotary, Princess Phone Repair, Touch Tone Phone Repair, Modular Phone Repair, Ringer Repair, Curly Cord Repair, Retractable Cord Handset Repair, 2500 Phone Repair, 2554 Phone Repair, 500 Phone Repair, 554 Phone Repair, Trimline Phone Repair, 1A2 Key Phone Repair, Touch-A-Matic Repair, Stowaway Phone Repair, Wood Phone Repair & Restoration, Wooden Phone Repair & Restoration, Telephone Recycling, Phone Recycling, Phone Salvage, Telephone Salvage, Lucent telephone, Lucent phone repair, AT-T wall phone, AT&T wall phone, AT-T phone repair, AT&T phone repair, AASTRA, Alcatel, Bogen, Engenius, ESI, Nitsuko, Mitel, Meridian, Isotec, Plantronics, Sanbar, Southwest Bell, Telrad, TIE, Toshiba, Trillium, Viking, Vodavi, Wheelock, NEC, NEC repair, Avaya, Avaya phone repair, Panasonic, Panasonic telephone repair, Uniden, V-tech, Merlin, Spirit, Definity, Legend, Comkey, VOIP. Novelty phones, Snoopy phone, Mickey Mouse phone, Empress phone, Kermit phone, Winnie the Pooh phone, touch tone phone, country junction phone, cloth cords, Partner phones, Partner phone repair, Samsung phone repair, Iwatsu phone repair, 2300 phone repair, 2354 phone repair, 702 phone repair, 700 phone repair, 2200 phone repair, 2254 phone repair, big button phone repair, Comdial phone, GE phone, Spectra phone, business phones, volume control phones, retro phone repair, novelty phone repair, pre-paid cell phones, answering machine repair, telephone service calls, telephone installation, voice & data cabling, telephone sales, multi-line phone repair, cordless phone, cordless phone repair, North Electric phones, Automatic Electric phones, Intertel phone repair, Nortel phone repair, fax switch, DSL phone line repair, telephone ringer repair, amplified phones, speakerphone repairs, candlestick phones, wireless networks, overhead paging, voice mail, music on hold, phone installation, commercial phones, novelty phones, telephone cords, phone jacks, phone flashers.
Bottom line is...
If we don't have it, we'll find it!

With White & Yellow Pages, Maps & Directions, People and Business Search...

Bell System Directories Offer The Most Comprehensive Search Directory on
The Internet, and With International listings!


Formerly...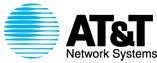 Structured cabling solutions for all business, telecom providers, construction companies,
multi-dwelling units (condominiums, apartments), and single family homes.
Systimax offers the most comprehensive and reliable line of cabling, and voice, video
and data information outlet products that are manufactured in the United States.


AT&T Mobility Tower Strategy Portal - Tower Operations

Verizon Wireless Network Real Estate Inquiries Portal - Tower Operations

The End of an Era - A New Beginning (December 31, 1983)
"The Bell System as we have known it will exist only in
our memories and in the history books."

The Bell System provided what was by all accounts the best telephone service in the world. Could the year 2004 mark the beginning of a NEW BELL SYSTEM? Charlie Stanley, an AT&T employee who was born in the year the Bell System died, created a hoax web page of what he envisions as a new Bell System. To see his creation, click HERE. Thanks Charlie for your addition to this website!

Many years before the US Government destroyed the Bell System there was a "Plot to Bury the Bell System". Of course the advertisement was about burying cable and not about a plot on the part of the US Government to "bury" the Bell System! But one wonders if there was some double-meaning intended in that ad?